As I am writing this, I still haven't had the opportunity to  upload my last post, so I guess both will be posted simultaneously.
On Saturday I googled churches in Kathmandu, and I got several hits. I chose KICC, Kathmandu International Christian Congregation, and found out where they have their Sunday service. After breakfast on Sunday, I checked out of my hotel room, and took a taxi to the church. It was a very friendly crowd, and lots of people came up to me, asked if I had been in town long, and whether it was my first time there. In the beginning of the service, people who were there for the first time were asked to stand up, and the microphone was passed around so everyone could introduce themselves!
The songs sung during the service were all English hymns that I didn't know, but it was very nice. Nepal has a serious problem with electricity, and power comes and goes on a set schedule, a "load shedding schedule" in order to keep the grid from breaking down. The "children's talk" was early on in the  service, and the guy leading the service was talking about how God has no "load shedding schedule", his power is working everywhere, all the time! 🙂 After the children's talk, the children left, and went to Sunday school, and the pastor gave a sermon where he was talking about the situation in Gaza, and how to react to the Isreali attacks. His conclusion was that the history of God's chosen people in the Old Testament shows that the Jews have a special position with God, but they are still held accountable for their acts, and that this is how he  figured we should look at the current situation.
After the service, some Norwegians came up to me, and it turned out I had found the place where the people from both the Norwegian Tibet Mission and Normisjon use to come on Sundays! I got to film some of them, and got a greeting from one of the Norwegian teenagers there to the teenagers in the congregation of Vardeneset back home. I was invited to join some of the younger people there for lunch at a café, and afterwards I went home with a couple of the Norwegians. I got to borrow a Nepali sim card from them, and the Lonely Planet guides to Nepal and to India! I then called up my CouchSurfing host Milan, who lives in Bhaktapur, 15 km from Kathmandu, and I went to meet him. The 15 kilometers here take about an hour by bus, because of traffic and horrible road quality. I have lived with his family for the last couple of nights.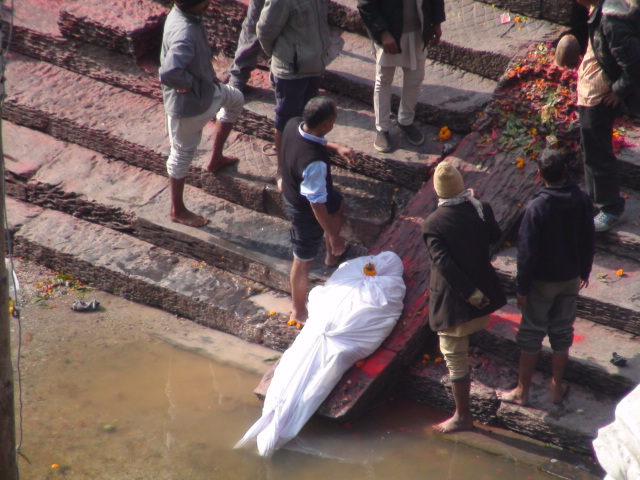 His nephew Sujan showed me around Bhaktapur yesterday, and we went to a couple of temples in Kathmandu today. The hindu temple area of Pashupatinath was quite special, as there were pyres along the river there, where they were cremating people. before the cremations, they took the corpse to the river and washed the feet, poured some of the water down the throat of the corpse, and then covered it in an orange shroud, flower petals and some red powder. After the pyre was burned down, they flushed the ashes into the river, where street kids were rummaging through it to search for coins. A little downstream, people were washing their hair, themselves, and their clothes! There were holy cows walking around the temple grounds, and lots and lots of monkeys were playing and chasing each other on the streets, walls and rooftops. If anyone took out any food, the monkeys would follow them around until the food was gone, hoping for some scraps. There were people selling fruit, that was given out in small, black plastic bags, and the monkeys would also follow any black plastic bag around, knowing it might contain a snack coming their way!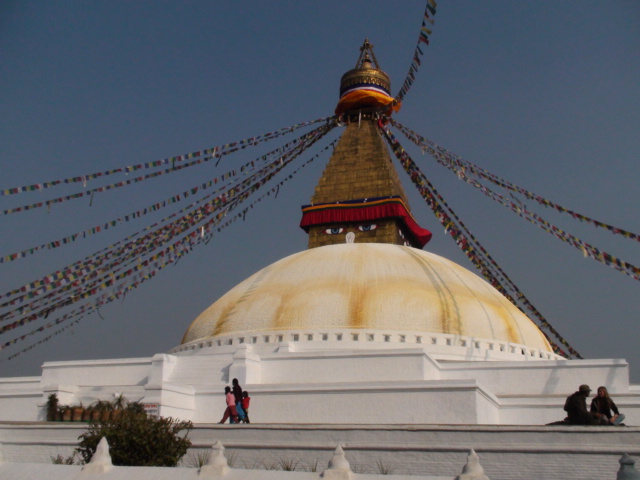 The second temple we went to was Bodhnath, which is a Tibetan buddhist temple, the only one in the world where Tibetan buddhism is practiced freely, without oppression. The biggest change was that there were pictures of the CURRENT Dalai Lama in the shrines, and it was free of the throngs of military that dominated the monasteries and temples in Tibet… It also has the worlds largest stupa (chörten in Tibetan). There I could pass on some of the things I learned in Tibet to my "guide", Sujan! 🙂 The chörten is surrounded by prayer wheels, like everywhere in Tibet, all of them inscribed with the holy words "om mani padme hom." For the first time, I saw white, western buddhists walking around in the red monks' robes, or prostrating themselves in front of the chörten alongside the Tibetans!
Tomorrow will be a small festival, and Milan has invited me to stay and experience it. It is the first day of a new Nepali month (lunar calendar) and it apparently marks mid winter. It involves a bath, supposed to be taken in cold water, because in a legend, a monkey fell from a tree into the water, had a bath, and came a long way towards enlightenment as a result (or so I gather.) None of the people here will be taking a bath, however, because it is too cold, and Milan and his family has no running hot water. The water they do have is pumped from a well into a tank on the roof, whenever there happens to be electricity for the pump… It will, however, involve a feast with lots of special traditional Nepali food!
Tomorrow I should also book a place to trek from in Pokhara, and go to Kathmandu and give back the books and sim card. From Kathmandu, I've gathered that I should go west to Pokhara, for a two or three day hike in the mountains, and then head south to Royal Chitwan National park, where it is much warmer, and I can ride elephants on safari around the park, and see Bengal tigers, rhinos, monkeys, fresh water dolphins, crocodiles and Gharials. (The latter is described as a prehistoric slender beast of an animal, with a long snout full of bad teeth, living on a diet of river fish) From Chitwan I go to the border, and head into India, before my visa runs out on the 23rd. I'm considering taking a round trip of India before I head east, and if so my first stop there might be Agra, but I haven't quite made up my mind yet.
Related Images: