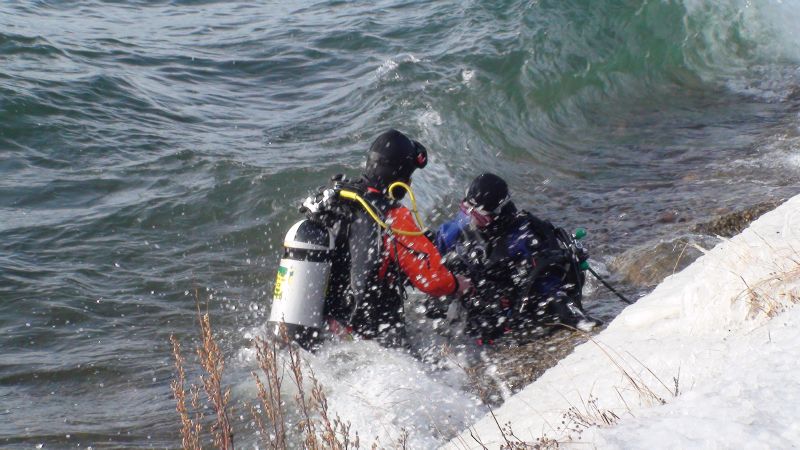 I met my Dutch friends, and we went to Listvyanka village by lake Baikal, about an hour from Irkutsk. It was definately a huge lake, and I took some cool pictures (that I still can't upload, as the computers in this internet cafe don't have accessible USB). My first priority was to find a dive centre, and lo and behold, even on our way into the village, we saw people in scuba outfit on the shore just next to the road! After a nice lakeside lunch, we trotted over to the dive centre.
I contacted a dive centre in Irkutsk a while back, www.baikalex.com, through the contact box they have on their page, and via email. They never answered, but I called them when I got to Irkutsk. They said they were fully booked, and that I should have contacted them via their web page… They suggested I just go out and have a looksee at Listvyanka village, so there I was. For a while, I actually thought I was going to get to dive! It then turned out that there HADindeed been a free spot in their previous dive, a couple of hours earlier, but the next free spot was in the middle of next week… (just about when I'm posting this) 🙁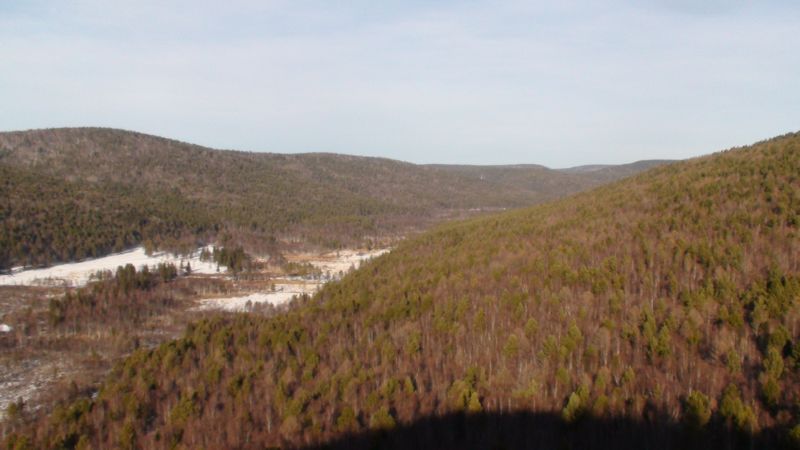 Instead of diving, we went for a hike in the pribaikalsk national park, which turned out to be an, if not equal then at least decent, substitute. We went up one of the valleys from the lakeside, between quaint old wooden houses, on frozen creeks, through snow that was about ankle deep, and up steep hills. We were originally planning to head over to the next valley, and then go back to the village from there, but we instead decided to get up to the top of the hill, and thus followed the ridge when we got to the highest point of the pass. The two Dutch guys were beside themselves, which is maybe not so surprising, seeing as they both live four meters BELOW sea level… The view from the top was gorgeous, and at least lessened my disappointment at not having gotten in that dive.
When I got back to Irkutsk, I had to take a taxi to my host's place in the suburbs, pack my stuff, and then back to town to catch the train. Anastasia saw me off, and offered to help me getting supplies and everything before I got on the train.
The train from Irkutsk to Ulan Baatar was the most expensive so far, because they didn't have third class, which is what I've used so far. The only carriage that was crossing the Russian/Mongolian border was second class. In third, the "compartments" aren't really compartments, because they don't have doors or walls. Second class was a whole different deal. The third class carriages look like they're from the early seventies, but the carriage I was in from Irkutsk was brand spankin' new! Each compartment had a tv and you could get either the onboard radio or the tv sound from minijack outlets above the beds. Each bed had a reading light, the windows were clean so you could see out, you could open them to get fresh air, the provodnitsa spoke English, the toilets smelled of soap instead of piss, all in all it was a whole different world! Still, the biggest change was being able to have proper conversations with the other travellers. I shared my four berth compartment with a couple from New Zealand, two compartments over was a father and daughter from Holland, who both were fluent in English, and a few of the other passengers also spoke English!
The train was a really slow one, however, and apparently I missed some of the most impressive scenery in Russia, going through tunnels and across bridges along the southern bank of Lake Baikal, since we passed it in the night.
We got to the border about 1pm the next day, and then found out that passport control wouldn't come till 4pm. We went out and looked around a little, but it was a tiny village, so there wasn't much to do. I spent my last few rubles buying some more credit for my Russian sim card, and used it to send some messages to my friends in Irkutsk. Then we waited. Around three thirty we got some customs forms to fill out in duplicates. At five to four a guy came into our compartment, looked at our passports, took the customs forms, stamped them, gave one back, and left again. A while later, another guy came in, got our passports, and trotted off with them. After more waiting, first one, then two more people searched our compartment. I couldn't say what they were looking for, because they didn't even touch our luggage… About seven hours after we first came to the border, we started moving again… Ten minutes later we were at the ACTUAL border, and twenty minutes after that, we got to the first Mongolian station. There, we had to write immigration documents and more customs documents, and of course the Mongolians had to take our passports. I don't really know how long the whole border crossing ordeal took, but it must have been over ten hours… 😛
The next morning, we were woken up at 5:30am, about forty minutes outside of Ulan Baatar. The plan was to borrow a phone and write my host in UB an sms with my arrival details as soon as we entered Mongolia, but I fell asleep before I thought of asking anyone, so I obviously wasn't met at the station. There were several hostels that had pick-up-service however, so I hitched a ride to a hostel, had breakfast, borrowed a phone, and sent an sms. Fifteen minutes later my host picked me up from the hostel, and we went to his place. He went to work, and I spent the day relaxing, catching up on international news on BBC World, and fell asleep in the middle of an airplane disaster show on Discovery. It was unspeakably nice to get a proper shower and a shave, which I hadn't had since Ekaterinburg. (I had shaved, but my host in Irkutsk didn't have a shower, only a communal washroom)
Today I've been walking around UB. It just might be the ugliest capital in the world… 😉 There are, however, some pearls buried in the massive concrete soviet heritage pig sty. My host runs a restaurant a few minutes walk from the city centre, and on my way from the restaurant to the Sukhbaatar Square, I found a small, run-down buddhist monastery, that wasn't even among the few sights listed in my Lonely Planet guide! It was quite cool, with it's prayer wheels,  huge communal Gers and locals going around offering their prayers! There is a bigger, more beautiful monastery in UB too, which I'll visit later. I finally feel like I have time to do what I want, with two weeks here!
I also went to a large park that was marked on my map, but it turned out to be more like the ghost of a park… I don't think it was supposed to be open to the public, because all the entrances were welded closed, except the one I reached first, and even that one was deserted. I was the only person in there, which was both nice and really eerie at the same time… There was a broken fountain with no water, a big, empty, dusty bowl where a pond was marked on my map, lined with broken statues of exotic aquatic animals. Further over were the skeleton of an old rollercoaster and a rusty ferris wheel that looked ready to collapse. The walk paths had almost no paving left on them, and dry, brown undergrowth was sticking up through the snow everywhere. I was really far from the place I'd gotten in, and all the other entrances were welded shut, so I ended up squeezing through a hole in the fence, in order to get out of the park on the right side…
My cs host has friends that are nomads, and live in a yurt out in the countryside. He's arranged for me to go there tomorrow! I will be staying and working with the family there until Friday. Then I head back to UB, because I've been invited to a concert with Mongolia's first (and only) death metal band! Can you say clash of cultures, anyone?