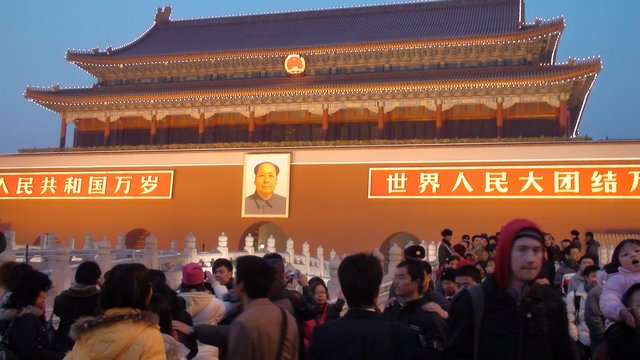 I arrived in Beijing on Friday. I am staying here with my Norwegian friend Thorbjørn, who works for FunCom here in Beijing, but I arrived a couple of days before I had planned, so I spent two nights at the Happy Dragon Hostel in the centre of Beijing. I got off the train, walked out of the train station, and went to the Hostel with some other travellers who had arranged to be picked up by the hostel. I shared a  room with Michael from Ireland, and on Friday we went to Tian'anmen square together. On Saturday we explored the Forbidden city together, and on Sunday we went on a trip with other travellers from the hostel to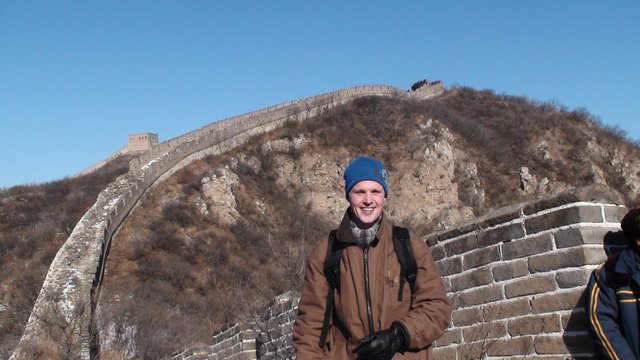 a part of the Great Wall that they call "The Secret Wall" because it has not been rebuilt, organized and touristified! It was absolutely stunningly beautiful, and on the entire 3 hour hike, we saw only 1 other person, far off on a hillside! On that trip was also Siri from Bryne, near Stavanger where I've lived the  past 10 years… She's studying International Relations in Australia, currently on exchange to China, visiting Beijing for the weekend.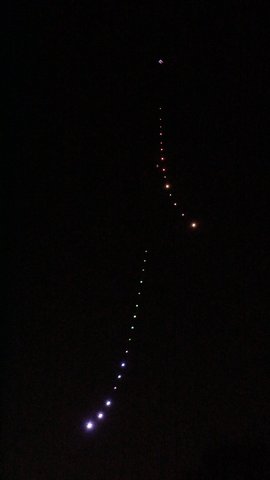 I spent parts of yesterday doing laundry, and then went to the Temple of Heaven park. It was quite awesome, with locals playing hackeysack, practicing their instruments, singing, playing cards or checkers, flying kites, or just strollling in the park. It got dark while we were there (me and Peter from Chicago), and when we were leaving we saw some weird lights in the sky that we had to explore. They turned out to be kites, with coloured lights along the string, and on the kites themselves!
Today I've contacted travel agencies and hostels in Tibet, because you need an organized tour to get a Tibetan Travel Permit. Tomorrow I'm meeting Peter again, and we're going to the Summer Palace. I still don't know where I'll be spending Christmas, but chances are it will be in Xi'an, the city where the famous terracotta warriors are located.
On request, I'll recount my first cultural blunder. Technically, it was when I accidentally bumped into a Mongolian guy's feet under the table, and failed to immediately stand up and shake his hands to show I meant no harm, but that wasn't really serious…
On my last night in Ulan Bator, I was invited to dinner with my host, the Satanist-Neo-Nazi, and his friends, and that was where my first SERIOUS blunder was made. My host was the only one there who spoke any English worth mentioning, and he was off in the bathroom. I was discussing the ridiculously small and worthless bills in Mongolia, the smallest of which is 1 tugrug, wort 1/167 of a Norwegian Krone… We seemed to agree that it wasn't worth anything, but it was hard to understand each other. To illustrate the uselessness of a bill that won't even buy you a tiny piece of candy, and was more useful as toiletpaper or kindling, I set fire to it, and doused it in the ash tray. I should of course have known better, even though it costs more to print the bill than it is actually worth… Conversation stopped short, the Mongolians looked shocked and angry, and luckily my host came back. He looked a bit confused, and when he saw the other Mongolians pointing to the half burnt bill in the ash tray, he got a really strict look on his face. It turns out that all Mongolian money has pictures of heroes of the people, and together with the fact that it also has the Mongolian national symbol on it, burning a Mongolian bill can be compared to burning a flag in another country! I made profuse and sincere excuses for about five minutes, while my host kept expounding how insulting what I had done was to him and his friends, and that even though everybody agreed that it wasn't worth anything, it was still a symbol of Mongolian national pride. Luckily I was forgiven, and we could keep enjoying ourselves. Lesson learnt: Think twice before using fire as part of a body language conversation…