Since my last post, I've been a busy little bee…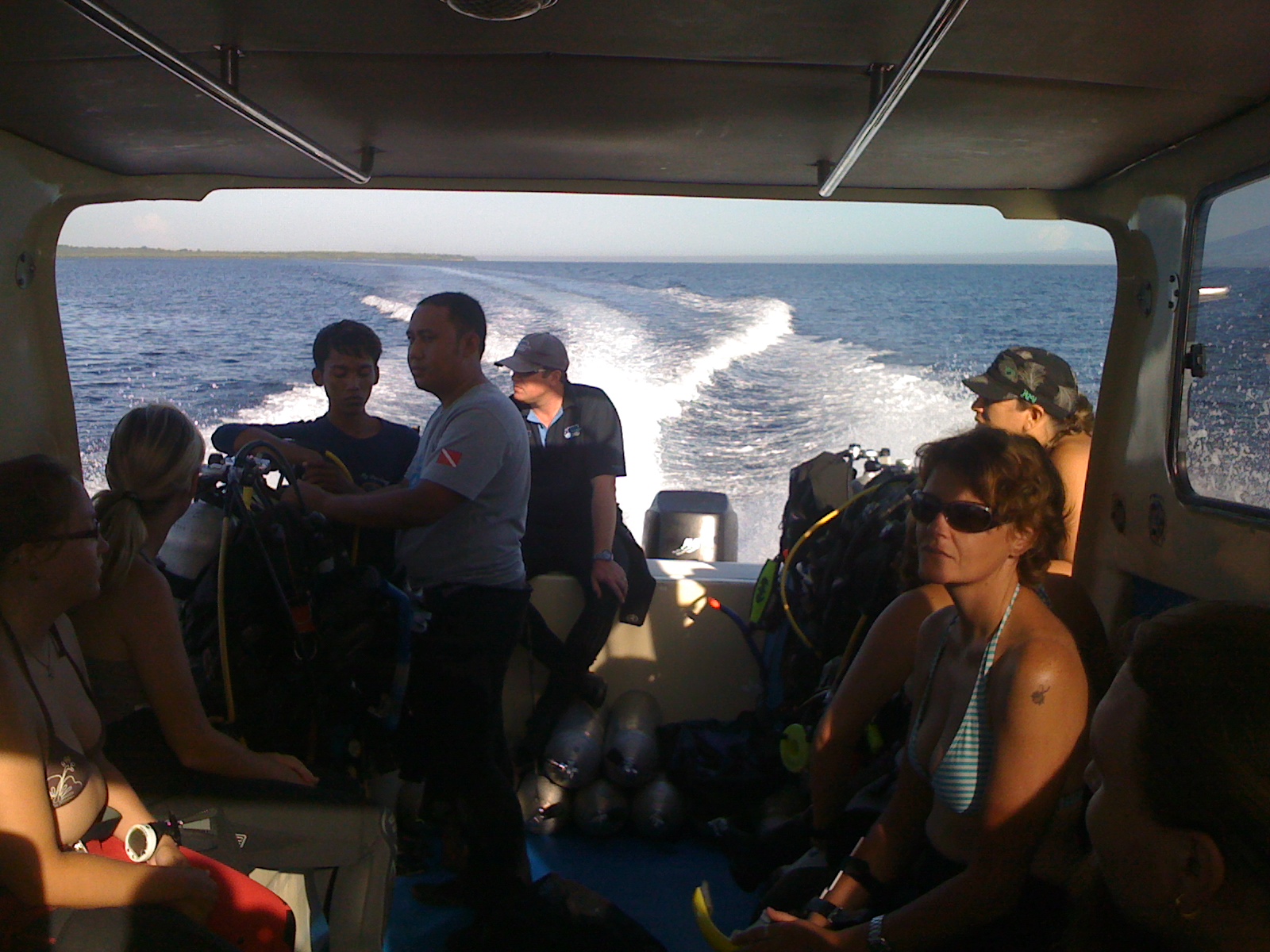 As you know, I've been working hard on becoming a scuba instructor. A definite highlight was this Sunday, when we went to Nusa Penida for an Adventure Diving Workshop. The first of our two dives was a dive to 39 meters, practicing teaching deep diving. We all had different tasks, like showing the difference in colours at that depth, showing the effect of pressure on a closed plastic bottle of air and a tennis ball, having people perform a timed task at depth and on the surface, and breathing from a pony bottle. My timed task, pointing at randomized numbers from 1 to 25 in the right order on a slate, took me 36 seconds at depth, and 24 seconds on the surface. I didn't feel like the nitrogen was affecting me, but the numbers speak clearly of increased problem-solving time due to nitrogen narcosis! Our second dive was a shallow one, max depth a little under 12 meters, but really beautiful, drifting over a gorgeous coral reef. On that dive we practiced leading Discover Scuba Diving customers, people with no training in diving whatsoever, which means I as the instructor have to do everything for them.
Tuesday and Wednesday we did our Mock  IE, and Wednesday was the last day of my IDC, Instructor Development  course. After finishing off our presentations, we went to a restaurant on the beach for dinner and beers, compliments of Jonathan Cross, our Course Director.
Yesterday was my second day off since I came to Bali. This time there was no enforced rest, so I headed out to find a rash vest. Eeva from Finland also needed to do some shopping, so off we went to do a round of some factory outlets outside Kuta. I was disappointed with the selection, even in the Billabong factory outlet, but I found a decent one that wasn't too expensive. We also padded around in Kuta for a bit, had lunch, and went down to the beautiful crescent beach there to have a look. I rounded off the day with an hour of relaxing traditional Balinese massage, priced at a friendly NOK 33, or about 4 Euros.
Today was the first day of our Instructor Examinations. We met up at Blue Season Bali around ten a.m. to go through some paperwork, and a little past one we went to Hotel Parigata here in Sanur for the theoretical part of our examinations. It started with a briefing on the logistics of the three days of examinations, and then we dove right into the written exams, first 5×12 questions on general dive theory with no reference materials in an hour and a half, and then 50 questions on PADI Standards and Procedures, open book exam in another hour and a half. My results ended up being:
Physics 11/12
Physiology 12/12
Recreational Dive Planner 12/12
Skills and Environment 12/12
Equipment 11/12
and
Standards and Procedures 49/50
The lowest passing grades are 9/12 and 38/50, so I was in the safe end of the spectrum. I've generally not had problems getting passing grades, although in the Physiology part of my Mock Exam I had four mistakes. Still, I'm happy with my results, but curious about what the three questions I missed were…
After the written exams, we went back to Blue Season, to prepare our Knowledge Development Presentations for tomorrow morning. I'll be "teaching" the rest of the crew, who'll be posing as Open Water students, about how to find minimum surface intervals, using the eRDPML (electronic Recreational Dive Planner, Multi Level)
After those presentations, we'll head back to Blue Season again, to prepare for our next presentations, and tomorrow afternoon we'll be in a pool in a hotel here in Sanur, where we'll do our Confined Water Teaching presentations. My assignment is to once again "teach" four of the candidates, once again posing as Open Water students, how to establish neutral buoyancy, using the low pressure inflator.
After a skill circuit in the pool, demonstrating Regulator Recovery and Clearing, Breathing From a Free Flowing Regulator, Alternate Air Source Use (stationary), Neutral Buoyancy, and Controlled Emergeny Swimming Ascent (CESA) it's back to home base at Blue Season to prepare the last set of presentations, which will take place in open water on Sunday.
Early Sunday morning we'll  head out to sea, and my presentation to my "students" will be Alternate Air Source Use (stationary) and CESA. The final task for the examinations will take place immediately after our Open Water Teaching presentations, when we'll all do a rescue presentation, towing an unresponsive nonbreathing diver to safety, while removing scuba gear and giving rescue breaths.
And VOILÁ, I'll be an Open Water Scuba Instructor!