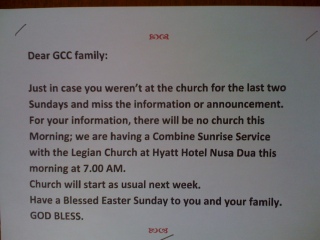 Today is Easter Sunday and I googled church in Sanur, and found  the Gateway Community Church, where they celebrate Sunday Service at 10am every Sunday.  I hailed a bemo and got there at 9:35, and was perplexed that there were no cars outside. When I came up to the door, it said that the congregation celebrated Easter Sunday at another church at 7am this morning…
As some of you will remember, I did my Divemaster course in the Perhentian Islands last year, and one of my friends down there, Richard, headed out to the Philippines to build a boat. The boat is now as good as done, and he'll be sailing it down to the Perhentians.  I'll be meeting him there, and I'll be one of three instructors working with him and his sister in their new company South Sea Nomads. Those interested can read about the build and the people on the Lonely Planet Travel Blog, and follow them on twitter.
I am hanging around Bali for another week, then on the 11th I'll do the night dive for my Night Diving Specialty Instructor course. We were supposed to do that dive a couple of days ago, but when we got down to Sanur beach around sunset, the boat we were supposed to go out on was beached like 150 meters from the sea, because somebody had forgotten to bring it out to deeper water before the tide went out… Jonathan Cross, the instructor trainer, then went on his easter holiday, so we'll be doing the dive when he returns.
On April 13 I fly out to Kuala Lumpur, where I'll arrive after midnight. Rich will be sending me some info by email tomorrow, so then I'll know more about the logistics of starting up the business in the Perhentians. I'll be there before the boat gets there, to prepare things, but that's about as much as I know right now, so I guess this post will be a "to be continued" type cliffhanger…
Related Images: