May 15
I reached a decision as to where to head next on Wednesday, and bought a bus ticket to Bangkok for the following morning. The dreaded road from Siem Reap to the Thai border has been renewed, and is now one of the best roads I've seen in months. The border crossing was long, hot and tedious, and the wait for our connection from the border into Bangkok was just as bad, but around 6pm we were finally there. I tagged along with some other travellers from the same bus, and we found a cheap guest house in the pouring rain. The rainy season is just on time, and at least a shower is to be expected every afternoon, but that doesn't make it any colder, only more wet… 😛
This morning we all went out for breakfast together, before I started looking for a way to get to Pattaya. A crowded inner city bus took me from the backpacker area around Khao San Road to Siam Square, and from there I got on the Sky Train. It's been over six years since the last time I was riding that same line to my then hotel on Sukhumvit Road, with the aircon blasting, and an ingratiating female voice announcing the stations, my favorite being NANA, pronounced in a distinctive nasal voice… I got off next to the bus staion on Ekkamai, bought a ticket, and was on the bus about ten minutes later.
Last night I did a CouchSearch, and put out a request for a couch in Pattaya. When I arrived here, I found a place where I could use the net, Viking hotel and restaurant, and found to my surprise that the request went through, on such short notice! One of the girls working here let me borrow her cell to call the guy, and now I'm expecting him here in a few minutes.
Tomorrow I guess I'll see if I can find the Norwegian Seamen's Church, and on Sunday I'll be celebrating there, with the Norwegian community here. I'm curious to see what it'll be like, I've never been to an official celebration the Norwegian National Day outside of Norway before. When I lived in Italy we'd get together for a breakfast and some waving of flags, but here I've read they even have a march! 🙂 For all of you back home, enjoy the weekend, and have a good 17th of May, hipp hipp hurra!
May 16
So. Things don't always work out as planned. The couchsurfer I was going to stay with showed up, but he had a Thai girl with him, and said I couldn't come because she was going to stay with him. We went out for dinner, I met a couple of his friends, and I checked into a crappy guest house instead. Pattaya is known for the sex tourists coming here, but I had no idea to what degree before I got here. One of the couchsurfers' friends was showing me around, since my host was "busy", and the friend stated quite matter-of-factly that he'd slept with 20 girls in the past 10 days, but he did not consider himself a sex tourist, since he didn't go with girls that wanted payment, only the opportunists looking for a rich husband. He was in his mid-thirties, doing his job over the net, and doing quite well for himself, so he put himself in a different category than the retired old men who come here for whores. Like he said, "they know that I'm only in it for the sex, and I know that they're only looking to land a rich, western husband or lover and benefactor, so the playing field is level and we both know the rules…" He did not appear to have any qualms about taking advantage of the fact that these girls have only that one chance to find a way out of poverty, or even considering himself to be taking advantage of it. He was an otherwise nice guy, and wanted to show me more of the city today, but I didn't know if I could take another evening talking to someone with opinions that deluded, so I claimed to have plans…
I found out in other ways too, why the Thais in Bangkok that I asked about how to get to Pattaya looked confusedly at me and wondered if I was sure I wanted to go there… There are at least two "Go go bars" or strip clubs on every street. The pubs that aren't strip joints, have "bar-girls", pretty girls who hang around and shout lewd suggestions at people walking by, or physically ambush them, to get them into the pub.  There are at least three massage parlors on every street, and two of them will offer a "happy ending." The staff at any kind of establishment will also offer other services, like this example from yesterday: I needed to do some laundry, so I took a bag of my dirty clothes to a place that offered laundry service. One of the women working there sorted through the clothes, told me how much it would cost to clean and also wanted to know if I'd like to have sex with her while the clothes were being washed!
This morning I checked out of my guest house because it smelled too much of mould in the room, seeing as it had no window, except one facing the hallway… At noon I headed over to the church for the Saturday Rice Porridge, and met some of the people who live here. There were a lot of retired people, as I had expected, but also a couple of other backpackers, here to celebrate May 17 as well. I asked one of the volunteers there if there were any decent but cheap places to stay, and she was going to show the three of us to an OK place. One of the retired people I'd talked to over dinner, Liv, came over as I was talking to the other backpackers, though, and said she had a spare bedroom, and asked if I wanted to borrow it for a couple of nights! Here I am now, in a big appartment on the 31st floor, with my own bedroom and bathroom! 🙂 Tomorrow we're getting a free May 17 breakfast at the church before Service, and later there'll be the celebrations.
May 19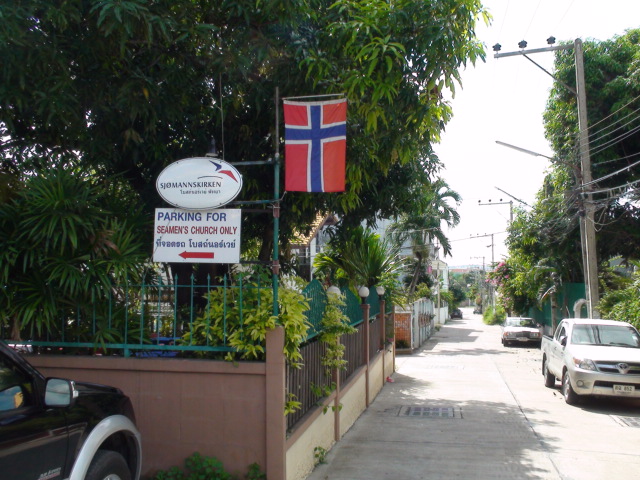 The celebrations for May 17 were very nice. At ten am there was a short service outside the church, and then a proper Norwegian breakfast. At noon there was the parade, but the marching band was exchanged for a pick up truck with a sound system. 🙂 The parade ended on a big lawn, where there were the usual speaches, ice cream, hot dogs and games. Most of the time the weather was swelteringly hot, but we had a half hour of tropical rain as well… There were somewhere between 150 and 200 people, most of them retired people who'd moved out there, but there were a couple of other backpackers as well. They were going to Bangkok the next day as well, so after we'd spent the evening together, we made plans to meet up the next day and go together. We arrived back in Bangkok yesterday afternoon, and tomorrow we're headed out to Laos on the overnight train.
We met some nice Brits in Bangkok last night, and with them, we tried crickets and some roachlike insects. They were pretty good, but they obviously look gross… 😛
Related Images: