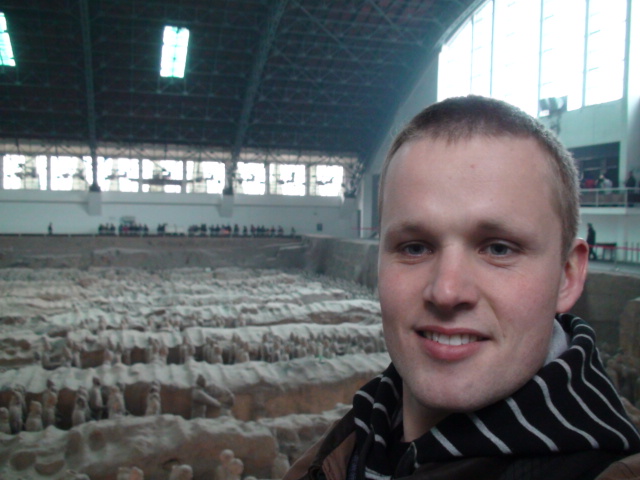 On Christmas Eve, I went to the site of the Terracotta Army. It's located an hour outside the city centre, and on the bus there I met two more travellers, from Paris and Chicago, and we spent the day together. The sheer size of the site and number of statues was mindboggling! We watched a little movie in a 360 degree cinema, that showed some of the historical context of the soldiers, and then we went to each of the archeaological dig sites, smallest to biggest. Pictures to come when I get a slightly more stable internet connection. (UPDATE: Pictures uploaded to the gallery)
When I came back to Xian, the bus I got on to get from the bus station to my hostel was extremely overcrowded, and I figured this was because people were headed home. Oh, how wrong I was… The closer I got to the city centre (my hostel is right on the main square) the more people were on the squares and sidewalks, and by the time I reached the Bell Tower Square, people were spilling onto the streets, hampering  traffic, making it even worse than usual! When I got off, I had to elbow my way past people selling all kinds of food, little heart shaped balloons, carnival masks, blinking devil horns and tiaras, santa claus hats, little puppies, souvenirs and every sort of street vendor crap ever invented!
I was walking around for a while, just taking it all in, and it struck me that Chinese Christmas is in fact a sort of mix of carnival (the Rio or Venice kind), halloween, new year, Valentine's day, and lastly Christmas… It's a festival when everybody and their cousin hits the streets, to enjoy, or to make some money. I eventually ended up at a Christmas party that I was invited to by some Chinese people I met at a restaurant the day before. It was in a youth hostel by the south gate in the city walls, and there was a live band butchering all kinds of songs. (it was fantastic; it takes a special kind of talent for a drummer to never EVER find the right beat, he was always at least half a beat off!) I played cards with some Americans holidaymakers, who normally work as English teachers in South Korea, and then the performances started. First some of the staff at the hostel sang a song, and performed a modern dance ("we are not professional dancers, but we are required to do this, so please excuse us"), and then the guests were coaxed to do the same… There was an on-stage-drinking-contest, and later a raffle. All the guests were provided with complimentary santa hats and colourful carnival masks, and the heat was cranked up so high I eventually had to leave before I succumbed to heat stroke…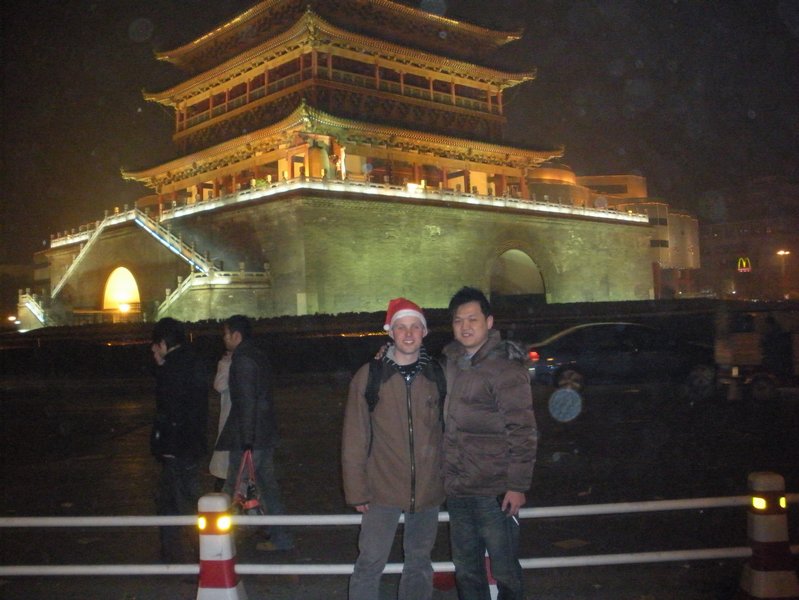 I dined my way back to the hostel, sampling all kinds of food-on-a-stick and met a guy from Hong Kong at one of the stands, which had even brought in loads of tiny chairs and tables for the customers to "sit" on. (I write "sit", because it felt more like squatting, seeing as the chair was like 15cm high, and the table about twice that..) This guy was in Xian to meet his girlfriend who was to arrive the next day. Around 1 am he got a call from her, saying she'd arrived early, so before he went to stay with his girlfriend, he gave me the key to his hotel room, which he didn't need. Thus it happened that I paid 30 yuan (ca 31 NOK) for a dorm bed in a hostel, and instead spent the night in a 330 yuan hotel room… 😉
I asked this guy what was up with the Chinese Christmas celebrations, and he explained that Christmas had become a big celebration the past few years, but seeing as they had no cultural history of the holidays, they just took all the things they liked from different western celebrations, and mixed it into one big festival!
Today, Christmas Day, I paid the deposit on my Tibet journey, so on January 1 at 06:45 I am starting the train journey to Lhasa! The train meets up with a train from Chengdu on the way, and on that other train will be the couple I'll be travelling in Tibet with. We are due to arrive in Lhasa in the late afternoon on January 2.
Merry Christmas to all of you! Hope you're all having a ball!