Hotels & Guest houses
The hotels in town are expensive, but a nice treat. Just remember that you will probably need a car to get to and from the hotel and the house and church. There is a bus stop next to Fredly Bedehus, with buses about every 30 minutes from the center of town.
Here are some hotels-
Arendal Maritime Hotell,
Arendal gjestehus,
Thon Hotell Arendal,
Clarion Hotell Tyholmen
Arendal Herregaard Spa & Resort
For more budget accomodation for those with cars, there are camp sites and cabins for rent near Arendal:
Hove Leirsted
Hove Camping
Eikely – Froland Vandrerhjem
Nidelv Brygge og Camping
Sandaa.no cabin rental
Kokkeplassen familieferie
Agderferie AS
Free accommodation:
We know accommodation can be rather pricey in Norway, so we have a couple of options that leave more of the budget open for other things (like getting there and away). They are both within walking distance of the house and lake, so you won't have to worry about local transportation like buses or car rentals. There is also a supermarket a short walk (or row) away.
Outdoor camping:
We don't have many tents available, but we have ample space to pitch your own. There are no showers, but it's next to the lake, and in late July we never use the shower anyway, we bring towel and shampoo to the lake. There is running water in the house, but the well tends to run dry rather easily in late summer (especially with a lot of people staying at the house), so we will have to limit this to drinking water only. This also means no flush-toilet, but we will organize other facilities so you don't have to go in the bushes. 😉
Indoor camping:
We have rented Fredly Bedehus (lit: Prayer House, i.e. community hall), about 500 meters from Øygardsbukta (where the BBQ will take place). It is also a backup plan for the wedding reception in case of horrible weather the day of the wedding (which won't happen!). You are welcome to sleep on the floor at Fredly. There are 3 open rooms with dividers and tables, chairs, and couches can be moved around. There is a fully equipped kitchen which we will be using quite a lot over the weekend, and two toilets. Unfortunately, no showers here either. However, the lake is still within a few minutes' walk (7 to be exact).
Here is a map: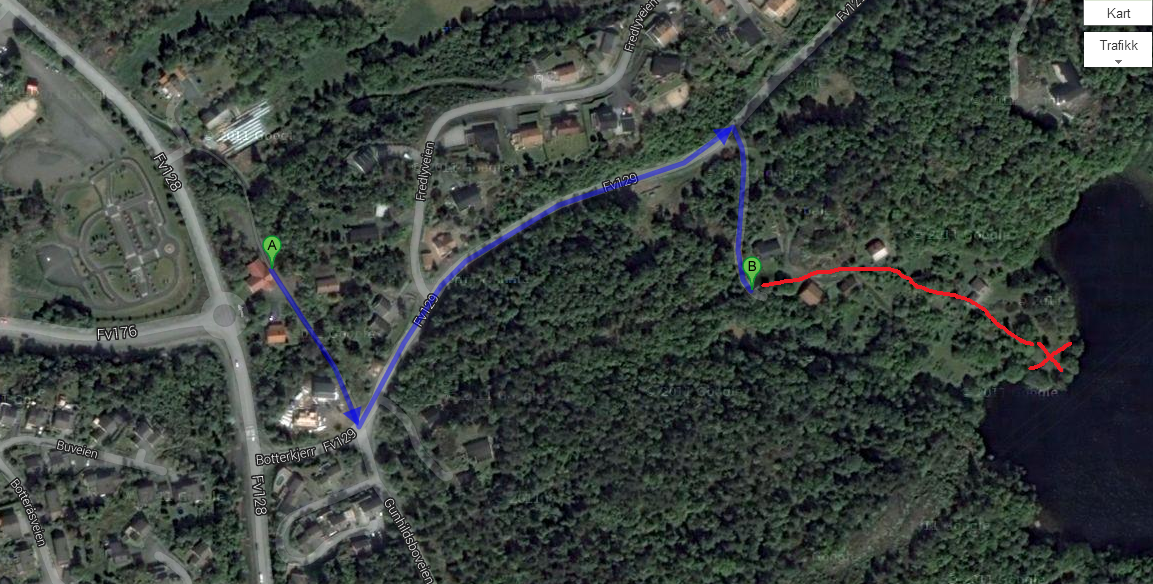 And here are some pictures of Fredly:
Related Images: