Wedding in Arendal, Norway
The Story
In the summer of 2013 the Noddeland/Hoover family went on a hike to one of the most spectacular natural vistas in the world, Trolltunga (The Troll Tongue). On the tip of the Troll's Tongue, hundreds of meters above the lake of Ringedalsvatnet, Kendra proposed.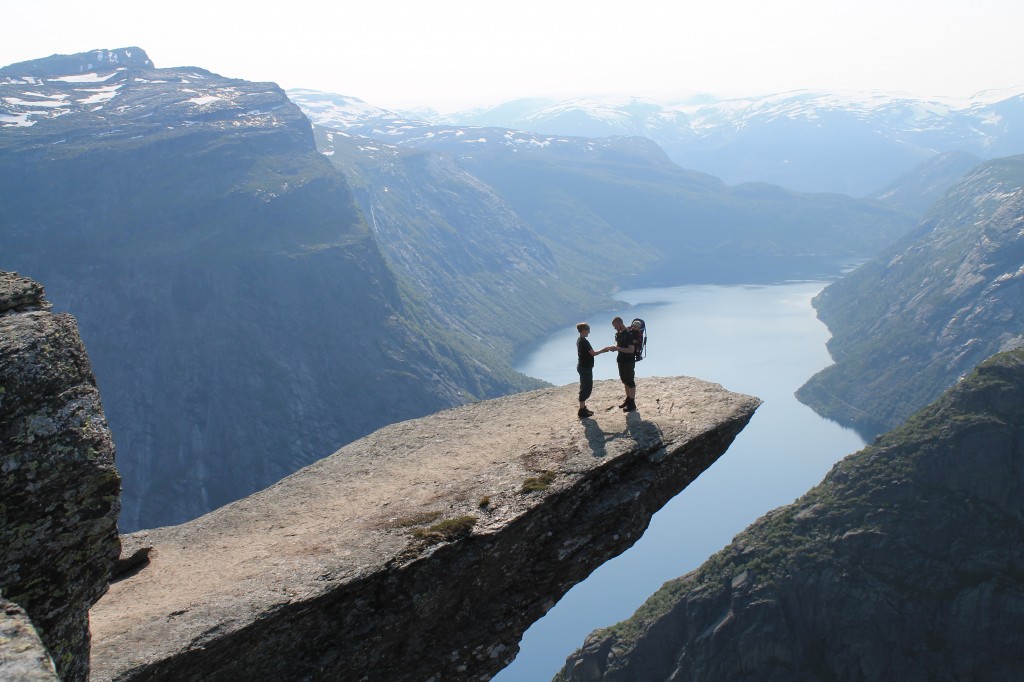 The Event
Later last summer we studied our calendars and found a date, and we booked a church. The date is, as you know by now, July 26 2014, and the wedding will be in Austre Moland Church at 2:30 pm. Rather than a formal reception, we will have BBQ dinner after the wedding at "Øygardsbukta," on Gjerulf's parent's property by the lake of Longumvannet (Longum Lake).
The Trip
Some of you will be coming from afar to be with us, so here's a little information on our plans before and after the 26th:
Our summer will be spent largely in the Stavanger area up until a few days before the wedding. If you want to see where we live, this is the time to come hang out in Stavanger, and go hiking to Pulpit Rock or Kjerag, or take a cruise down Lysefjord and see them both from the boat . Around Tuesday the 22nd or Wednesday the 23rd we'll travel by train to Arendal to set up for the big weekend. After the wedding weekend we'll be spending some more days in the Arendal area with you guys before taking off on our honeymoon. Here you can see where Stavanger, Arendal, and Oslo are on the map: