We arrived in Ninh Binh last night at 9.30. We decided to take an early night, in order to get up early, and botched miserably as usual… After our usual breakfast pho, we headed off on a rented moped around 11am. The destination was Tam Coc, where there are karst formations of the same kind as in Ha Long Bay. The limestone has been thrust up from the old seabed and then been withered by wind and water in much the same way, but the difference is that here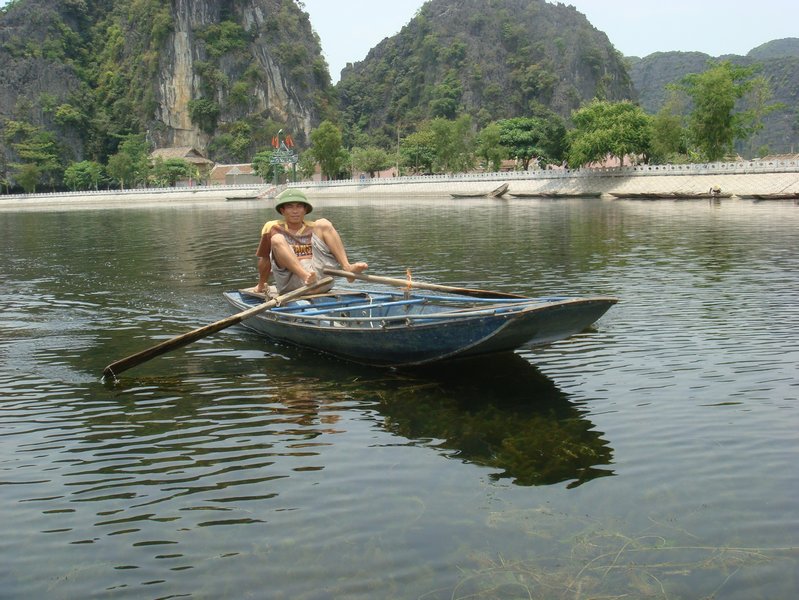 they are on land. A slow river meanders between the rice paddies, and curls around the jutting karst spires, except where the water has cut a hole straight through them. We hired a flat bottomed sampan, and were rowed up the river, and through three of the caves. The lady rowing, alternated between using her arms and using her legs to push the oars! We even put our strength to use with a paddle ourselves, when we got bored of just sitting and looking.
Our timing turned out to be as perfect as could be, since we had the river to ourselves almost all the way. Only at the very end did the next bus loads of day trippers from Hanoi start moving rank and file up the river, with only a few meters between each sampan. The best moment on our whole 2 hour boat trip, was when our rower stopped rowing in a narrow, uninhabited valley, and the silence was so intense we could hear our own breath… That's a first in Vietnam, even for Annikken who has spent months here earlier!
After the boat trip, we headed further into the karst scenery on our moped, until the road ran out… There we were befriended by a deaf road construction worker, who insisted on showing Gjerulf a small, deserted valley over a low ridge. It was a short trip in dense jungle, but it was like entering a different world! With his communicative sign language, he explained that the valley was home to both monkeys and huge snakes. Meanwhile, Annikken helped a Vietnamese family build the foundation for a new house… She lifted heavy rocks, tried her hand at chiseling a rock, and helped apply the mortar. At first they were making fun, and pointed to a big rock they wanted to have carried over. Their faces changed rapidly when she just smiled, picked up the big rock, and asked where they wanted it… When she lifted her arms and flexed her muscles to show how strong a Norwegian woman is, they lauged happily at her antics.
After lunch, we just drove around for a while, until the sun set between the limestone towers. As we write this, we are waiting for the sleeper bus to come and take us to Hue and on to Hoi An.
Related Images: